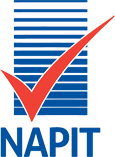 Want efficient air conditioning installed in your store or office? Get in touch with us on:
0800 051 8446
Air Conditioning and Heat recovery systems throughout the London Area
Air Conditioning / Heat pumps – providing cooling and heating for any application from Office, Home, Conservatory, Factory, Hotels and shops.
In short, air conditioning makes you feel better, more active and fit, resulting in many advantages, because he or she who feels better is more creative and productive. And who doesn't like to be in a shop, café, restaurant or hotel with air conditioning, certainly in the summer or winter.
Our air conditioning and climate control systems provide many types of HVAC system controllers with varying levels of sophistication. For this reason the suitability of a control system to a building depends on both the building's size and how it is used.
As an example, in a small office a simple air conditioning control system with a wall mounted interface to control ambient temperature and on/off scheduling will be sufficient to achieve the optimum level of run cost and environmental impact reduction. In a large hotel however, a much more sophisticated computer controlled system will be required to implement the more intricate control strategies and co-ordinate the large number of HVAC units to achieve optimization.
---
Air Conditioning Maintenance
Planned preventive maintenance (PPM) is regular, scheduled work carried out to keep equipment in good working order and to optimize its efficiency and accuracy. The primary goal of preventive maintenance is to reduce the possibility of equipment failure before it actually occurs. It is designed to preserve and enhance equipment reliability by replacing worn components before they actually fail.
This activity involves regular, routine cleaning, lubricating, testing, calibrating and adjusting, checking for wear and tear and eventually replacing components to avoid breakdown. The resource and extensive training of our staff ensure that equipment is operated at optimum efficiency and plant life expectancy is extended to maximum potential.
After determining what is to be done, the frequency of the task must be decided. A heavily used air conditioning unit in a server room must be cleaned and checked more frequently than one which is used less often. The frequency suggested in the manufacturer's manual can be used as a guide, but the actual usage of the air conditioning should determine the maintenance procedure required.
Key Objectives of planned preventive air conditioning maintenance contracts
Longevity of life
Money saving and energy efficiency
Optimizing up time
Improving staff efficiency, comfort and air quality
Comply with current F-Gas legislation
Reduce the risk of breakdowns or replacement costs
We also provide a service / breakdown and emergency call out
---
Air Ventilation and Heat Recovery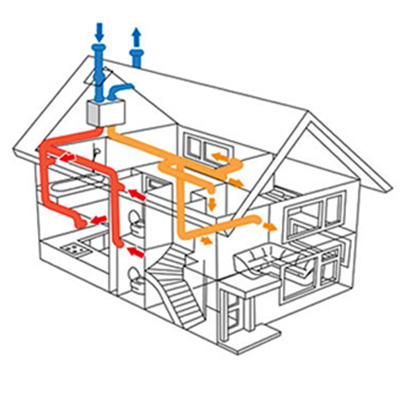 Building regulations requires that a property has adequate ventilation. Ventilation of a dwelling is required to prevent the accumulation of moisture that could lead to the following…
Accumulation of pollutants
Poor air quality for breathing
Improved insulation, double glazing, draft excludes and tighter construction methods results in energy efficient improvements. The consequence of such measures is to reduce natural ventilation within a building. Household odors, damp, condensation, and toxins can contribute to a property being unpleasant or unhealthy to live in.
New homes are extremely air tight, and require correct ventilation in order to protect them from problems in the future. A Heat Recovery System will take care of all the extract and ventilation requirements, but also reduce energy consumption in the home by recovering otherwise wasted heat.
A heat recovery system will keep your house fully ventilated throughout the year, whilst recovering the heat already inside your home. It brings fresh air from the outside and recycles the otherwise wasted heat from bathroom and kitchen areas.
Building regulations requires that a property has adequate ventilation. Ventilation of a dwelling is required to prevent the accumulation of moisture that could lead to the following…
Anywhere where there is a high heat or moisture content will be used to power the heat recovery unit and keep efficiencies high.
Very old properties, although sometimes quite difficult to install, will benefit greatly from a mechanical heat recovery ventilation system. Moisture and stale air can cause lasting damage to Grade 2 listed and older homes. This is where a heat recovery system can count towards protecting the actual fabric structure of the building, along with the comfort of the inhabitants occupying it.
It is common practice to have two or more heat recovery units working in one large home; and they can be positioned to serve zones or floors of their own. Ductwork can be installed within Ecoweb or I joist floors so that no boxing-in is required.
---
Solar PV (Electric) Panels
Generate your own renewable electricity through solar pv (electric) panels
Our Solar Pv Systems are all designed to give you as much FREE electricity as possible and a reduced electricity bill, and also with the feed in tariffs a quicker payback.
MAKE money, SAVE money, and GO SOLAR
With an expert team, our membership with REAL and full accreditation under (MCS) – you can be sure that our solar panel installations, products and after sales support are of the highest quality.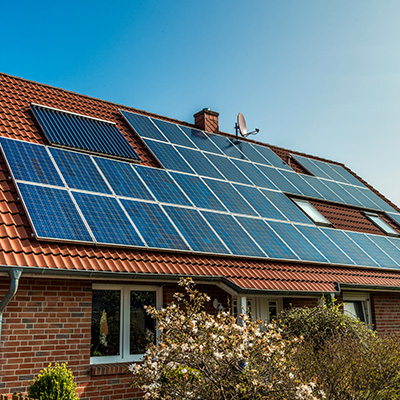 Reduce your electricity bills by a third, half or to nothing depending on the size of Solar PV Electric Panel system installed and the amount of electricity you use.
Feed in tariff pays you for every unit of electricity you produce.
Excellent return on investment.
Get paid by your energy supplier for electricity that you don't use.
Modern systems have a guaranteed operating life of 25 years and will last up to 40 years.
Increase the value of your home and get an excellent return on investment.
Only requires daylight so will work all year long and even on cloudy days.
Little or no maintenance required with a totally silent operation due to solid state technology and no moving parts.
In most circumstances no planning permission is required and most systems are installed within a day with minimal disruption to you or your home.
Reduce your carbon footprint and reduce the impact of global warming.
Create your own electricity for FREE, giving you your own clean and renewable energy power source.
---
The benefits of Solar Hot Water (Thermal) Systems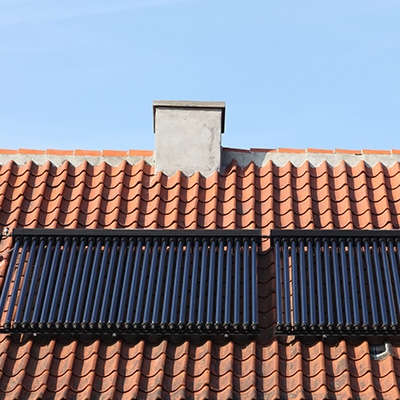 Hot water throughout the year: the system works all year round, though you'll need to heat the water further with a boiler or immersion heater during the winter months.
Cut your bills: sunlight is free, so once you've paid for the initial installation your hot water costs will be reduced.
Cut your carbon footprint: solar hot water is a green, renewable heating system and can reduce your carbon dioxide emissions.
It can make your home more efficient: It can add up to 5 points on your home's energy performance rating. It also means your boiler cycles less & therefore could last longer.
---
How do the solar hot water system work?
Solar water heating systems use solar panels, called collectors, fitted to your roof. These collect heat from the sun and use it to heat up water which is stored in a hot water cylinder. A
There are two types of solar water heating panels:
Evacuated tubes Which can be fitted on the roof.
Flat plate collectors, which can be fixed on the roof tiles or integrated into the roof.
Both can be used with a combi boiler and other boilers and a water tank is needed.
Larger solar thermal systems can also be arranged to provide some contribution to heating your home as well as giving you hot water.